Intracranial Hemorrhage
Triage
Non-Contrast
Head
CT
The Reality of Prostate Cancer2
Prostate cancer is the most common cancer in American men the second leading cause of cancer death in men. About 1 man in 8 will be diagnosed with prostate cancer during his lifetime. The prostate cancer death rate declined by about half from 1993 to 2013, most likely due to earlier detection and advances in treatment.
Support PI-RADS Scoring1
Quantib® Prostate software facilitates the analysis and study review of MR data sets and provides additional mathematical and/or statistical analysis. The software can be used for semiautomatic segmentation of anatomical structures and provides volume computations, together with tools for manual editing. PIRADS(Prostate Imaging Reporting and Data System) scoring is possible using a structured workflow.
Quantib® Prostate can increase sensitivity of prostate cancer diagnosis compared to an unaided Radiologist.3
Accelerated Workflow. Accurate
Quantification. Elaborate
Reporting
Semi-automatic prostate segmentation provided by Quantic Prostate reached a higher SEN and PPV compared with AI-unaided segmentation, specifically in high-risk patients.3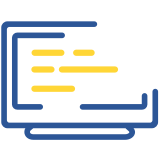 A structured visual report including key images and visual representation of PI-RADS v.2.1 results.1
Intuitive workflow for assessment and generation of a standardized report of prostate mpMRI findings.3
1Quantib. Quantib® Prostate Manual Rev 6. Accessed July 2023.
2American Cancer Society. Key Statistics for Prostate Cancer. Accessed July 2023.
3Faiella E, Vertulli D, Esperto F, et al. Quantib Prostate Compared to an Expert Radiologist for the Diagnosis of Prostate aCancer on mpMRI: A Single-Center Preliminary Study. Tomography. 2022;8(4):2010-2019. Published 2022 Aug 13. adoi:10.3390/tomography8040168
What Customers Are Saying
The application enables identification of small nodules faster and more reliably, particularly for oncological patients.
Terrence Matalon
MD, Chairman, Diagnostic Radiology at Einstein Medical Center
 
1. Nam liber tempor cum soluta nobis eleifend option congue nihil imperdiet doming
2. Lorem ipsum dolor sit amet, consectetuer adipiscing elit. Magna aliquam erat volutpat tempo molestie vesse
1. Nam liber tempor cum soluta nobis eleifend option congue nihil imperdiet doming
2. Lorem ipsum dolor sit amet, consectetuer adipiscing elit. Magna aliquam erat volutpat tempo molestie vesse